The SEO and social media departments of many brands often operate as their own entities. In reality, however, the two are inextricably linked. As such, they should work in unison, aligning their strategies, processes, and goals. How can you improve your social media optimization by using SEO-friendly copywriting?
Let's explore how it's done on some of the most popular social networks.
Wait — What is SEO, Anyway?
SEO stands for search engine optimization. It's the process we use and guidelines we follow to get more organic traffic through Google.
You've probably thought at least once, "Man, it would be nice for my business to rank on page one of Google." Although there are other factors that go into this, SEO is a big one.
SEO is a behemoth of a field. In fact, there are different kinds of SEO. For instance, technical SEO looks at things like page speed and mobile friendliness. Onsite SEO, on the other hand, cares more about keywords, headings, and image alt texts.
Okay, But What Do SEO and Social Media Have to Do With Each Other?
We're so glad you asked! They're a lot more related than most people think.
Just like your static web pages and blog content, your social media should be optimized. Here's why.
For Starters, People Use Social Media Platforms Like Search Engines
You know how you search in Google when you need information on something?
Social media platforms work in the same way — and that's how countless people use them.
You've probably done it yourself, too. Have you ever gone to YouTube looking for something specific, like a music video, a pancake recipe, or a hair tutorial? If so, then you used it like a search engine.
How about Pinterest? Remember that one time you went there looking for home decor inspiration? You used it as — you guessed it — a search engine.
Now, think about the results that pop up on page one. This is no accident. These pages rank the best for a few reasons, one of which is that those social media posts are — *drumroll* — optimized.
So, how can you try to achieve similar results so that you too can land on the first page of social media search results? You do this by creating SEO copywriting for your social media profiles and posts.
How to Use SEO Copywriting for Social Media Optimization
How you go about this will depend on the specific platform in question. Let's go through some examples together.
Pinterest
Pinterest gets more than two billion searches a month . Woah . If you're not optimizing your pins and profiles, you could be missing out on serious traffic. You need to be optimizing your pins.
There are simple steps you can take to make significant progress. First, find relevant keywords.
Go to the search bar and start typing the general topic of your pin content. For instance, if you're pinning a blog about the keto diet, start typing "keto diet" into the search bar. Here's what you see: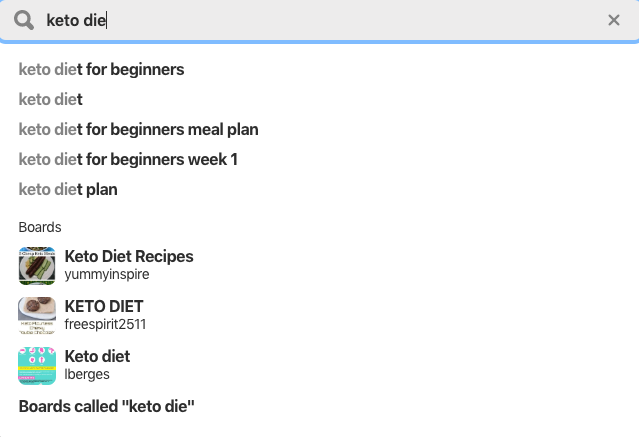 Not unlike Google, what you see in that drop-down are related search queries people have actually typed in. In other words, Pinterest is flat-out handing you relevant and related keywords.
Pick one that makes sense for your pin. Then, use it in the:
Pin title.
Pin description.
File name of the image you pin.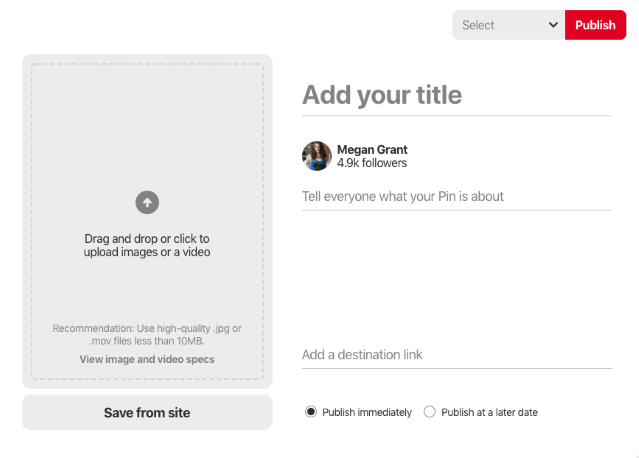 Word on the street is that Pinterest might even be analyzing the text on your pin image, so you might consider having the keyword there, like this: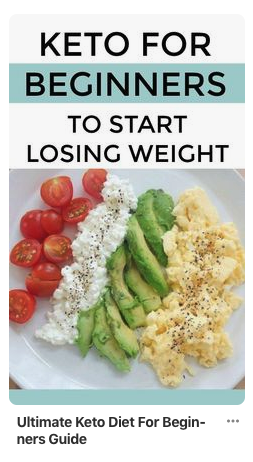 ( Source )
This isn't the only place you can use optimized copy on Pinterest to increase your traffic and engagement. Your boards have titles and descriptions — how about putting some keywords in there?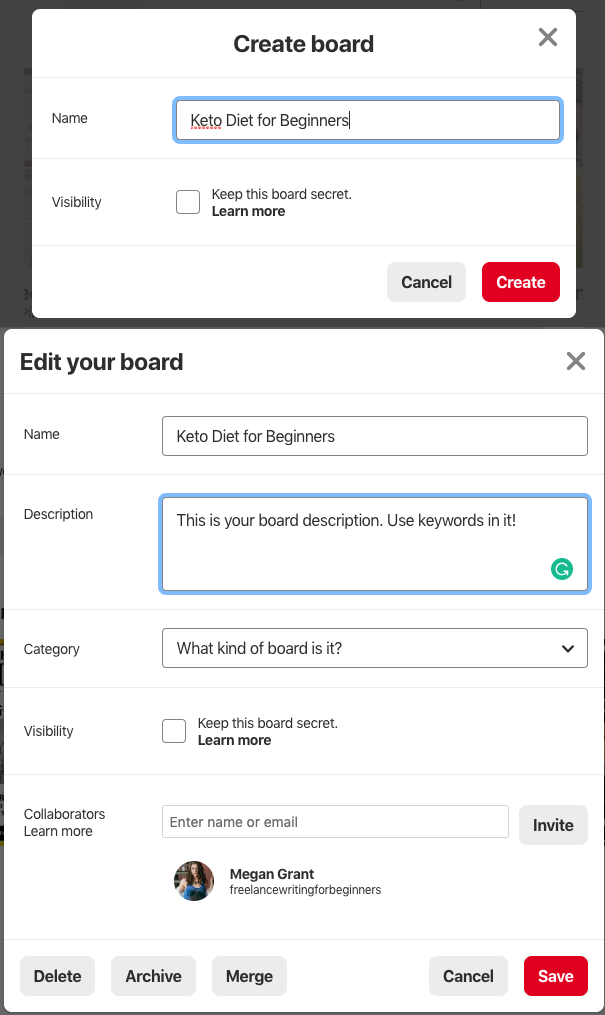 Don't forget that Pinterest also gives you a little space to share some information about yourself. This is another great place for a keyword.
Remember that Pinterest is also like Google when it comes to keyword stuffing, meaning don't do it. It creates a bad experience for your visitors, it looks spammy, and the platform will take note of it and react accordingly.
P.S. Don't forget to add a few hashtags!
YouTube
Google owns YouTube, and that should tell you how important it is to optimize your profile and the videos you post. Thankfully, YouTube gives you plenty of opportunities to do this.
YouTube SEO starts with finding the right keywords. Notice anything familiar?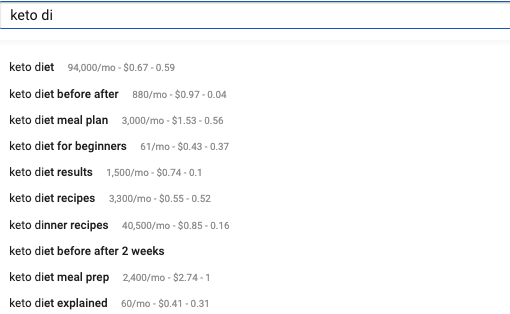 Once you have a relevant keyword (or two), use it in your title and description, plus in the name of your video file, if possible.
Also, did you know that you can use hashtags in video titles and descriptions ? They're not just for show, either. They're clickable and fully functioning. You can put them in your video descriptions, too.
This will make it easier for people to find you when they're looking at videos that are related to yours. Bonus.
YouTube is quite literally Google for videos. If you don't you optimized content when posting videos, people won't find you — period.
LinkedIn
It might not have all the bells and whistles that Instagram and Facebook do, but LinkedIn matters. If you're on it and you're not optimizing what you write, you're missing out on traffic and engagement.
We know we're starting to sound like a broken record here, but we're going to say it again: keywords, keywords, keywords!
What's the purpose of your LinkedIn page? What are you using it for. Let's run through an example and say you're a freelance social media manager looking for work.
If that's the case, you want people who are interested in hiring a social media manager to find you when they go looking for candidates.
Perhaps unsurprisingly, you're going to want to make sure the words "social media manager" are sprinkled throughout your page. This includes your:
Headline.
Bio/summary.
Job descriptions under your employment history.

Considering we use LinkedIn for business purposes, you're going to want to stack the odds as much in your favor as possible when it comes to making it easy for people to find you. Social media optimization is key.
Twitter
When you think of using "keywords" on Twitter, you probably think of hashtags. Those are indeed important, but they're not the only way to optimize your tweet.
Notice what happens when we search "SEO tips." For starters, the two pages featured at the top have #SEO — in their bios ! Is this the only reason they're featured? No. Does it help? Most likely.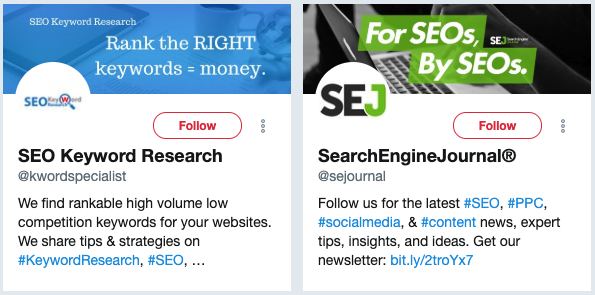 Next, let's look at the first three tweets that show up in the search results.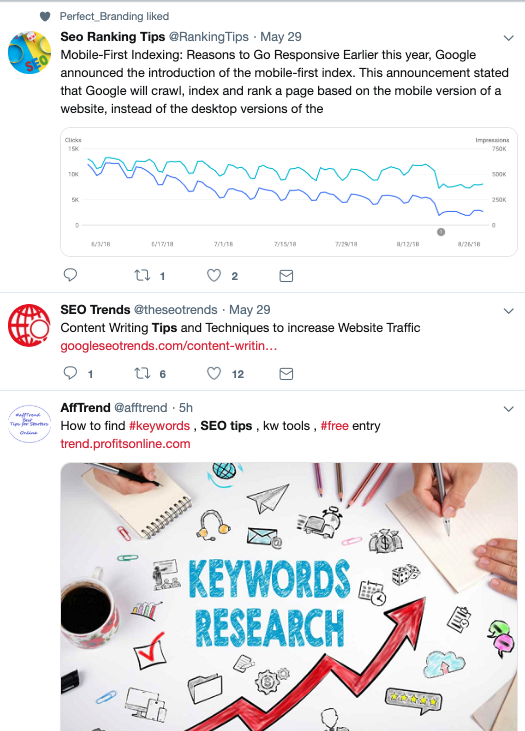 For the first result, the username — Seo Ranking Tips — contains our search term (SEO tips). In the second result, "SEO" is in the username and "tips" is in the tweet. In the third, "SEO tips" is in the tweet.
These aren't even hashtags.
So, yes, Twitter is absolutely paying attention to the words you choose to put in your tweets and on your main profile page. Choose wisely!
Similar to Pinterest, it definitely can't hurt to put relevant keywords into the file name of any pictures you tweet, as long as it makes sense.
Instagram
The story here is a little different, simply because most people use Instagram strictly from their smartphones. So, it's not operating like a search engine in the way other platforms are.
We still have a few tricks up our sleeves to increase engagement and traffic, though.
For starters, use emojis! Research suggests that emojis make your content more memorable and also increase engagement.
Second, use the location feature to "check in" to your location whenever you post. Some research says that posts with tagged locations get more engagement than those without tagged locations.
Another easy trick is to prioritize hashtags that get more engagement and traffic. Instagram itself tells you how many times a hashtag has been used, and tools like eClincher will measure their engagement.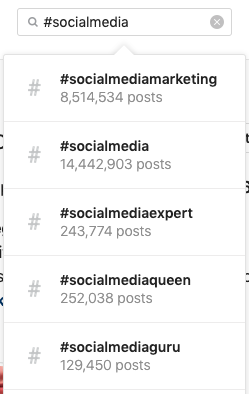 Tumblr
While not every brand utilizes Tumblr to grow their business, if you do, here are a couple of helpful hints to optimize your posts.
Tumblr lets you create custom URLs for every post, which you can access when you click the gear in the top right corner. Write something relevant and keyword-friendly.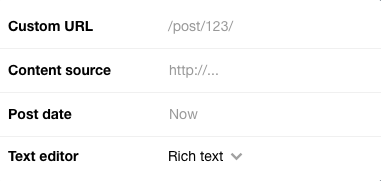 Don't forget to utilize keywords in your descriptions, image files, and tags, too.
If you're using social media for business, utilizing optimized content is key. It makes your pages more visible and searchable, ultimately increasing traffic and engagement. This, in turn, helps to eventually send more traffic to your website — one of the main goals of social media.
Facebook
We love hashtags, and using them helps optimize your posts because it makes it easier for people to find you.
However, when it comes to Facebook, go easy on the hashtags. In fact, try laying off completely.
Research says that Facebook posts without hashtags perform better than posts with hashtags. Don't worry, though. There are other ways you can optimize your page.
Fill your profile out in its entirety, including the About section and Our Story.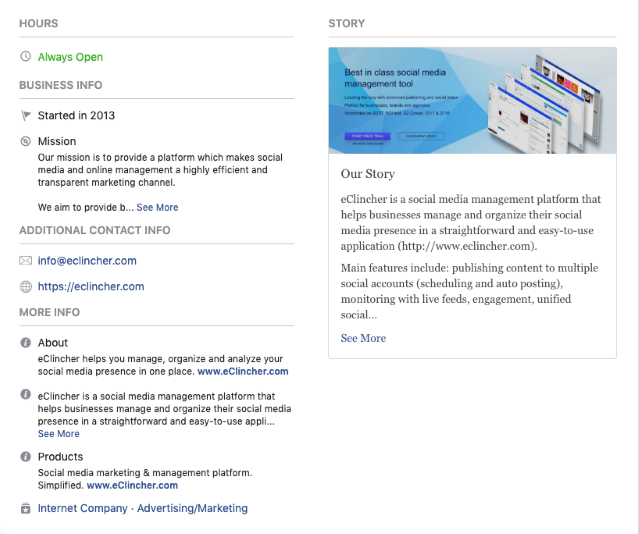 Also, be sure to incorporate important keywords that are relevant to your product or service. For instance, we have "social media management platform" in the first sentence of Our Story.
Now, are people using Facebook like a search engine to the same extent as we are on platforms like YouTube, Pinterest, and LinkedIn? No. But here's the thing. Social media profiles often show up on page one of Google when people are looking for your business.
And, while we don't have a conclusive answer, your social pages might be acting as quality backlinks — meaning they link back to your website. Google notices this.
Any way you cut it, social media optimization is important, and so is observing its results. Keep track of user activity and engagement on your Facebook page with specialized tools like 全球十大体育平台.